Dashboard
The dashboard is the center of information regarding the operation of the VPN server.
The dashboard view has a simple, even crude form, because it is a tool for professional use and the emphasis is mainly on stability, using as few add-ons as possible, which can be an additional attack vector.
Dashboard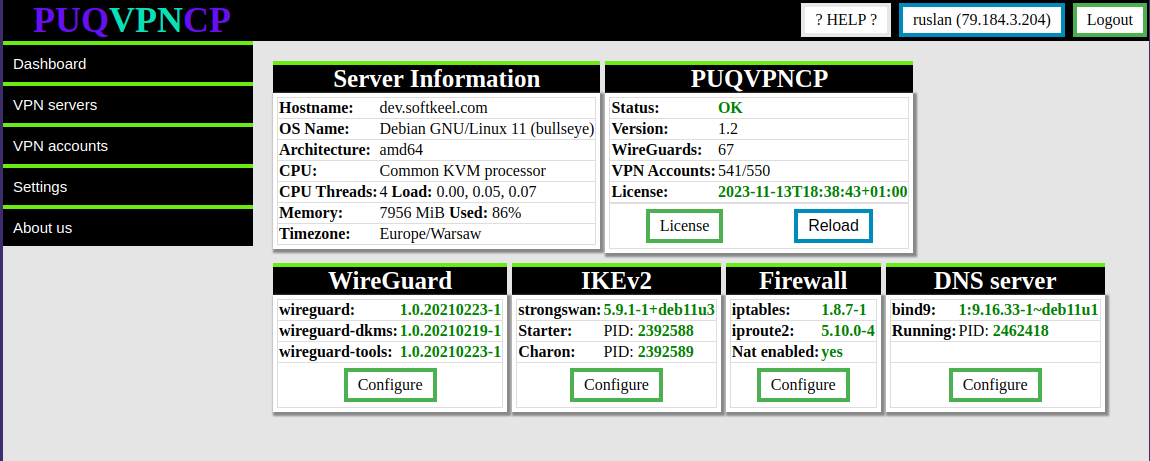 The main page of PUQVPNCP contains diagnostic information.
Server Information
This section contains basic information about the host server, such as:
Hostname
OS Name
Architecture of CPU
CPU name
CPU Threads and load
Memory size and usage percentage
PUQVPNCP
This section provides basic information about the status of the VPN server service.
Updated real-time information about server status.
Status: If the status is not OK, it means that the panel is performing operations on the server configuration. At this point, user management of VPN servers and firewalls is limited.
Version: current version of the PUQVPNCP panel.
WireGuards: Number of WireGuard interfaces in the system.
VPN Accounts: The number of VPN accounts in the system.
License:License status and expiration date
WireGuard
Status and versions of installed WireGuard packages
IKEv2
Status and versions of installed strongSwan packages
Firewall
Status and versions of installed packages iptables, iproute2
Status about the included nat. Nat needs to be enabled.
DNS server
Status and versions of installed package bind9